Here's another major update for SQUID!
We completely revamped the samples, moved everything into one solution and included sample projects for Truevision3D, XNA3.1 and SlimDX. Added a few new controls, drag&drop and a brand new and slick looking style.
Screenshot of the code samples in action: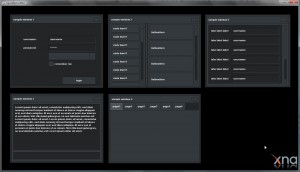 Release notes:
added TabControl
added HScrollBar control
added Panel control
added Drag & Drop
added SlimDX sample
added XNA 3.1 sample
added a completely new style
lots of bug fixes
Grab the new download HERE and have fun with it!